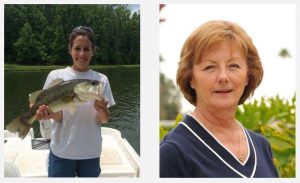 OKLAHOMA CITY — The first annual Noreen Clough Memorial Scholarship for Females in Fisheries was awarded at the Southern Division, American Fisheries Society's annual meeting to Whitney (Jacobs) Della Torre from Gainesville, Fla.
Noreen Clough blazed many trails in the field of fisheries. As the first female regional director of the U.S. Fish and Wildlife Service and later as the conservation director of B.A.S.S., her long and distinguished career was dedicated to the conservation and management of fish and wildlife. Along the way, she served as a mentor to many and a revered colleague to countless others. Noreen passed away in January 2015 from pancreatic cancer.
As a tribute to Noreen's impact on careers and lives and for the good of the resources she helped conserve, friends and colleagues established an endowment to provide a scholarship in her memory to a female student working toward a career in fisheries conservation. This year there were 29 applicants representing 19 different colleges and universities from across the United States and Canada.
"Noreen felt that the issues debated in state legislatures and in Congress were where we stood to make the most progress in protecting our natural resources," said Gene Gilliand, current B.A.S.S. conservation director. "This scholarship continues her legacy by encouraging students to get involved in the policy world where they can make a real difference."
Whitney (Jacobs) Della Torre worked for U.S. Rep. Jack Kingston's Washington, D.C., office after she finished her undergraduate studies and became interested in natural resource policy. She returned to school and received a master's degree from the University of Georgia, studying environmental science.
While completing that degree Whitney worked part-time for B.A.S.S. as Noreen Clough's intern, assisting in various aspects of the conservation agenda and helping with every facet of Conservation Summits put on at the 2012 and 2014 Bassmaster Classics.
Whitney said of Noreen, "The first time I met her she gave me career advice that I will forever cherish, she told me to make my work relevant." Noreen's mentorship inspired Whitney to follow that passion for environmental science and policy and enter law school, where she is currently completing her third year at the University of Florida. Whitney recently accepted a job offer as an associate at an environmental law firm in Birmingham, Ala., where, following graduation, she hopes to be involved with aquatic and natural resource issues while volunteering her service to the B.A.S.S. Nation.
https://www.bassmaster.com/conservation-news/scholarship-awarded-honor-former-bass-conservation-director-noreen-clough