Lauren Halbert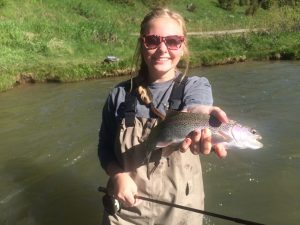 My name is Lauren Halbert, and I am a Walnut Springs, Texas native. I grew up working and playing on the land, spending any free time fishing. This helped me to gain a respect and develop a passion for the outdoors, and more specifically, our aquatic resources. I am currently a junior at Tarleton State University in Stephenville, Texas, where I recently became the first Fisheries Science major. This past semester, I led a team of students in establishing an AFS subunit on campus, and will be serving as the subunit president for the 2017-2018 school year. I attended the Texas Chapter and SDAFS meetings this year and would really like to be more involved in the years to come. Serving as the Student Representative to the SDAFS EXCOM would allow me to do just that. I am passionate about AFS and know that I can be a valuable member to this team.
---
Kyler Hecke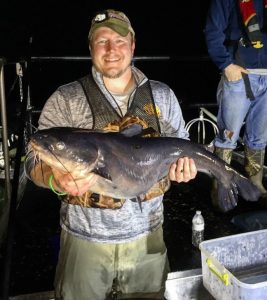 I am originally from Hot Springs, Arkansas. I received my bachelor's degree in Biology with a concentration in Ecology and Organismal Biology from the University of Arkansas at Little Rock (UALR). My involvement with American Fisheries Society (AFS) began during my years as an undergrad, when I joined AFS in 2012. When I was at UALR, the school did not have an AFS student subunit, but some fellow classmates and I began the steps to get a student subunit started at the University of Arkansas at Little Rock. We became the founding members of the UALR student subunit and it is assuring to know that the subunit is still going strong with its involvement in AFS today. While an undergraduate student, I was able to attend my first AFS National Meeting (Little Rock, 2013) and my first Arkansas AFS (ARAFS) Chapter Meeting. I had the grand opportunity of volunteering at my first national conference, which was a blast.
I just recently finished my master's in Aquaculture and Fisheries at the University of Arkansas at Pine Bluff (UAPB), where I was under the advisement of Dr. Steve Lochmann and my master's thesis research was on the, "Distribution and Status  of the Strawberry Darter in the Main Stem and Tributaries of the Strawberry River Drainage". My involvement with AFS really took off once I started my master's at UAPB. I am thankful that I had a major advisor during my master's that was highly involved with AFS. UAPB has a student subunit and I was actively involved with the student subunit during my time as a master's student. During my three years as a member, I held the secretary, vice-president, and president officer positions. I was grateful to be awarded the UAPB Student Subunit Outstanding Member award one year during my time with the subunit. I was able to attend my first two SDAFS Meetings (Savannah, 2014 and Oklahoma City, 2017), where I volunteered at both of these meetings and gave oral presentations on some of my master's research. I was actively involved in the ARAFS Chapter meetings during my time as a master's student. I had the opportunity to serve as a student member on the AFS Profit, and State Fish ad hoc committees for the ARAFS Chapter. I volunteered at each of the ARAFS Chapter meetings I attended, where I moderated sessions and judged professional oral-presentations. During the 2017 ARAFS Chapter meeting, I was able to organize a student social for members of all of the student subunits in Arkansas to gather for fellowship. I was also able to attend the AFS National meeting in Kansas City (2017) during my time as a master's student, where I was awarded the Skinner Memorial Award, which helped me attend this meeting and I am grateful. I also volunteered and orally presented the findings of my thesis research during this national meeting.
I am now preparing to start the Natural Resource Management-PhD grogram at the University of Tennessee-Knoxville (UTK) in the fall of 2017, where I will be under the advisement of Dr. Brian Alford and my dissertation research will focus on fish community changes in relation to material production activities in the Clinch River Basin.
During my time as an AFS member, I have been able to develop friendships and professional relationships that will last forever and have benefited greatly from this society as a student. As I prepare to start the next chapter of my life at UTK, I do so with high hopes of continuing my involvement with AFS. I feel that I posses the desire and dedication to be an outstanding representative for students on the SDAFS EXCOM. Thank you for the consideration.
---
Christopher Pickens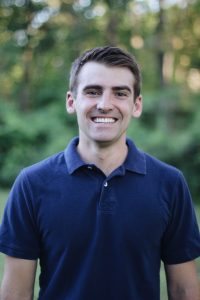 Christopher Pickens graduated from Oberlin College in 2014 with a Bachelor of Arts in Biology and Geology.  While attending Oberlin College, he participated in several research projects.  Under the mentorship of Dr. Dennis Hubbard (Oberlin College, Geology), he examined fossil reef organisms to understand reef declines in the Caribbean.  While studying abroad in Australia, he worked with Dr. Justin Welsh (James Cook University) to monitor changes in herbivorous reef fish behavior on the Great Barrier Reef in response to induced macroalgal phase shifts.  Lastly, as a NOAA Ernest F. Hollings Scholar, he interned at the Kasitsna Bay Lab in Alaska where he helped kick-start their phytoplankton monitoring program and began correlating primary productivity fluctuations with physical oceanographic conditions.  Aside from research, Pickens worked for the Monterey Bay Aquarium Teen Conservation Leaders and Seafood Watch Program, which seek to develop the ocean conservation leaders of tomorrow and promote sustainable seafood.
Following his graduation from Oberlin College, Pickens pursued his passion for marine conservation and stewardship by becoming a commissioned officer in the NOAA Corps.  As a NOAA Corps officer, he was assigned to the NOAA Ship Nancy Foster where he helped facilitate projects that promote NOAA's missions of resilient coastal communities and healthy oceans in the North Atlantic, Gulf of Mexico and Caribbean Sea.  In April 2017, Pickens resigned from the NOAA Corps to pursue a graduate degree in Marine Biology from the College of Charleston, starting in the Fall 2017.  For his graduate research, he will be working with the South Carolina Department of Natural Resources' (SCDNR) Marine Resources Monitoring, Assessment, and Prediction (MARMAP) program, with the intent of using statistical modeling to show spatial and temporal patterns of fish species commercially important to the US Southeast Fisheries and assessing how these distribution patterns are influenced by abiotic and biotic factors.
In his spare time, Pickens enjoys being outdoors or participating in any activity that gets him in the water.  Recently, he took up the sport of stand up paddle boarding and has really enjoyed exploring the inlets of Charleston Harbor and neighboring Islands.
---
Tyler Steube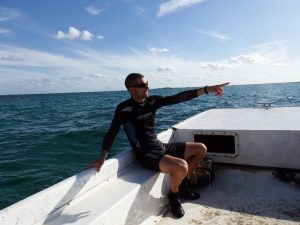 I am originally from Columbus Ohio and received my BS in Evolution, Ecology and Organismal Biology from The Ohio State University in 2013. While an undergraduate, I was involved in research on the effects of climate on life history traits of Lake Erie yellow perch (Perca flavescens) conducted at the Aquatic Ecology Lab. Following graduation, I was employed by the Ohio Sea Grant and Ohio State University's F.T Stone Laboratory on Gibraltar Island in Lake Erie. Assignments included research on valuable sport fisheries, water quality, and hypoxia. My next employment with a non-profit marine education organization in the Florida Keys. Pigeon Key Foundation operates a small island campus which fosters understanding of fisheries, corals, and the unique marine ecosystem. Following Pigeon Key, I skipped over the Gulf Stream to North Andros Island, working at Forfar Field Station, operated by International Field Studies. While education, outreach and SCUBA were primary objectives for visiting high school and collegiate marine biology groups, I also collaborated with other fisheries conservation groups including the Bahamas National Trust (BNT), The Nature Conservancy (TNC), NC State University, and the Bonefish & Tarpon Trust (BTT).  Each of these field stations allowed me to share my passion for fisheries ecology and educate others about effective management.
Currently I am a MS student in the Fisheries Program at Texas A&M University- Corpus Christi under Dr. Ben Walther. My thesis will investigate the trophic ecology of Atlantic Croaker (Micropogonias undulatus) experiencing seasonal hypoxia in the northern Gulf of Mexico. Using stable isotopes, I will resolve any hypoxia driven shifts from benthic to pelagic food webs, with implications for population management. I am also proud to serve as the President of the TAUM-CC AFS subunit. Through my involvement with AFS, I have initiated service events with local conservation organizations helping to raise over $15,000 for fisheries. Also as part of the TAMUCC subunit, I supported the TCAFS Annual meeting in Corpus Christi this year. I am excited to receive a graduate award to present my research poster at the Tampa Annual AFS meeting in conjunction with the Stable Isotope Symposium.
My involvement with fisheries research and the AFS has created a wealth of opportunity in my professional and personal life. The Southern Division has the incredible ability to activate and support undergraduate and graduate fisheries research. As a representative to the SDAFS EXCOM, I would gain unmeasured benefits from interacting with the society and be able to present the concerns of student members. The AFS exists to bring together researchers to solve difficult ecological problems.  I would like to use this networking conduit to assist the incredible research of the next generation of fisheries scientists. Thank you for your consideration.