Jessica Baumann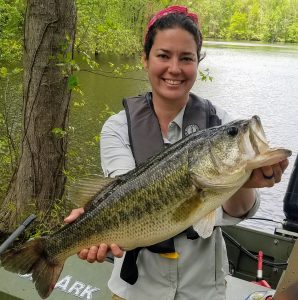 Jessica earned a Bachelor of Science in Biology from Augusta State University in 2002 and a Master of Science in Fisheries and Wildlife from North Carolina State University (NCSU) in 2007. Time between her degrees was spent working as a technician with Georgia DNR's Stream Fish Survey team, but the last decade of her career has been with the North Carolina Wildlife Resources Commission (Commission). As a fisheries biologist for the Commission, her work has focused on recreational fisheries management in Piedmont reservoirs. This work included research on "Using the DIDSON to Evaluate the Effectiveness of Different Fish Attractors in Turbid Reservoirs," which was published in the North American Journal of Fisheries Management and received the AFS Fisheries Administration Section's 2013 Sport Fish Restoration Outstanding Project in the category of Research and Surveys. Jessica also received the 2012 NC Chapter's W. Don Baker Memorial Award for Best Professional Paper for her oral presentation on her research results.
Jessica has been an active member of AFS since 2005 taking on roles at multiple levels. With the Southern Division (SDAFS), she currently serves as the Podcasting Coordinator, where she has overseen coordination, capture, and production of the annual meeting podcasts since 2013. She has especially enjoyed this role, because the level of collaboration needed to capture the podcasts has allowed her to work with some great people! Jessica also served as the A/V chair of the 2010 annual SDAFS meeting. Over the last decade, Jessica has been an active member of the North Carolina Chapter, where she has served on the Education and Outreach committee as co-chair (2012-2014), organized annual continuing education workshops, and initiated podcasting at annual meetings. During her time at NCSU she was an active member of the award-winning student sub-unit, including serving a term as President. She was also the recipient of both the 2007 SDAFS Warmwater Stream Committee's Jimmie Pig Award and the AFS Education Section's Skinner Memorial Award.
"I'm extremely honored and excited about the possibly to serve AFS at this level. The collaboration and comradery that I have experienced within SDAFS is something that I truly value, and if elected, I will strive to serve with the highest level of enthusiasm."
---
Jason Schooley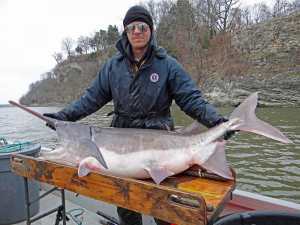 Jason D. Schooley received his B.S. in Zoology from Oklahoma State University and M.S. in Biology from Arizona State University. His career in fisheries began in 2003 on the Lower Colorado River AZ/CA, where he studied avian predation and other mortality factors of the endangered Razorback Sucker. Jason is now a Senior Biologist for Oklahoma Department of Wildlife Conservation where he has been studying Paddlefish since 2009. His research focuses on ecology and sustainable management of this species of great recreational and economic value to Oklahoma. He is regarded as a leader within his agency, serves on multiple committees, and earned the recognition of "Fisheries Worker of the Year" within two years of his hire date. One of his proudest accomplishments at ODWC is his development of the Paddlefish Research Center Internship program, within which he has mentored >80 young scientists on fisheries research, angler education, and sustainable stock management. Jason is active in the MICRA Paddlefish and Sturgeon committee and in the Oklahoma Chapter of American Fisheries Society where he serves on the continuing education committee. His recent efforts within AFS service include planning a Science Communication workshop in spring 2018 and serving as symposia chair for SDAFS 2017 in Oklahoma City. Jason is known for his attention to detail, quality performance, and creativity in research. If elected, Jason is enthusiastic about serving Southern Division on behalf of his state and with the full support and encouragement of his agency.