Sarah Welsh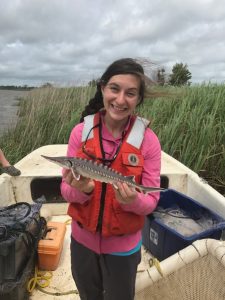 Hello, I'm Sarah Walsh. I was born and raised in Idaho. I am currently working toward my Master's degree at Auburn University. My research focuses on the movement and fate of stocked Rainbow Trout in an Alabama Tailwater.
This past year, I greatly enjoyed serving as Auburn's AFS Student Sub-unit President, and I am looking forward to serving as the vice-president this upcoming academic year. My most notable achievement this year was collaborating with our Sub-unit, the United States Aquaculture Association Sub-unit, and Auburn's Fisheries Department, to host the first Fisheries Student Research Symposium. It was considered an outstanding success amongst both students and staff as it established the much-needed opportunity for students to practice presentation skills and share their research.
It would be a great honor to be elected as the SDAFS student representative in order to foster collaborations between student members and the division's EXCOM. I would like to contribute to an informed student sector of AFS. I would highly value working with the committee and learning what all goes on behind the scenes of AFS decision making. I believe that my enthusiasm for and dedication to AFS would make for an exceptional representative.