Cindy A. Williams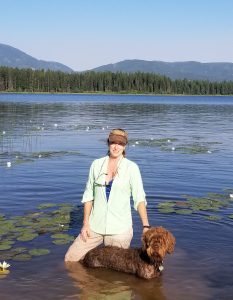 Background
Having worked for 5 federal agencies and NCWRC, I've dealt with competing issues and resources my entire career. Balancing the needs to protect endangered fish species and migration corridors with the public's need for power at FERC. Protecting riparian and stream habitats while meeting demands for timber and recreation with the Forest Service. Balancing environmental needs against Tribal issues, power demands, and food production with extremely limited water availability in a highly altered watershed taught me a lot about working with people and the need for compassion. Recognizing and working with the diversity of issues and cultures will lead to solutions. I put all of my energy into this focus and will continue to do so for the Southern Division. With the US Fish and Wildlife Service, I coordinate fisheries and aquatic conservation projects with Field stations, including Hatcheries, Fish & Wildlife Conservation Offices, Fish Technology and Health Centers, Aquatic Invasive Species, and databases.
Professional Activities
I joined AFS in 1979. I'm active with the Continuing Education Committee, Hutton Committee, EEO, Fish Habitat Section, and the Education Section and have been for many years. I chaired both committees and successfully convinced the AFS Governing Board to establish the Hutton Committee as a Standing Committee. I was very pleased the Society leadership recognized the work of the Hutton Committee to reach out to under-represented groups to expand our thinking regarding fisheries resources. I've delivered numerous presentations and organized several symposia at the Chapter, Division, and Society levels. AFS presented me with a Distinguished Service Award for my leadership on the Continuing Education Committee. I'm an active member of the Southern Division, and served in a variety of unofficial positions at several Division meetings. I'm a member of the Georgia and Tennessee Chapters. I was active in the Montana and Oregon Chapters and the Northwest Division. I'm always willing to step up to help whenever necessary.
Vision
The internet and social media have improved communications and networking. We need to continue to utilize these tools to the benefits of our membership. AFS positions and policies often lead state and federal agencies and industries to change how we do business to improve fisheries management and protection. AFS has always been there for me and is my home. Issues important to me include 3 goals: 1) Expanding the membership's diversity and knowledge base; 2) Incorporate Human Dimensions methods to improve the communication of science internal and external to AFS; and 3) Promote increased involvement of federal and state members in Society interactions, policy development, and implementation. I will use my connections to encourage participation from underrepresented groups as well as foster new relationships with other groups. It is our responsibility to increase public and governmental awareness that sustainable natural resources support national and global economies. We must find a balance between meeting the needs of our human populations and protect aquatic resources so both thrive. We can find allies to help balance competing demands for resources. Protection of aquatic habitats is only one part. We must manage those habitats and species, including humans that inhabit them. AFS has the ability to build bridges between competing interests on policy and approach, by continuing to advocate for the best science, making science available and understandable by decision makers. I will bring this vision to the office of Vice President for the Southern Division. I'm excited and honored at the opportunity to serve the AFS membership. I look forward to working with the Governing Boards and Executive Director to maintain our credibility as experts in all aspects of fishery science.
---
Chris Racey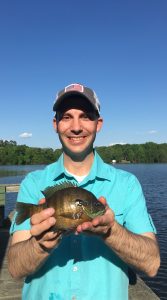 Background
Chris has served the state of Arkansas for the last three years as the Chief of Fisheries for the Arkansas Game and Fish Commission (AGFC). Chris started his career with the AGFC in 2005 in the Family and Community Fishing Program before taking on the role of Assistant Chief of Fisheries Management from 2009 through 2015. A native Pennsylvanian, Chris received his B.S. in Biology from Grove City College. Chris received his M.S. in Aquaculture/Fisheries from the University of Arkansas at Pine Bluff (UAPB) in 2001. From 2001 – 2005, Chris was a research associate at UAPB working on fisheries management and ecology projects for Dr. Steve Lochmann.
Professional Activities
Chris has been an AFS member and an Arkansas Chapter member since 1999. Chris has been an AFS Certified Fisheries Professional since 2009. Chris has served professionally at local, regional and national levels. Chris served as the Arkansas Chapter president from 2013-2014 and the secretary from 2008-2010. He has been the AR Chapter ad hoc History Committee chair since 2015. Chris has served as the SDAFS representative to the Southeastern Association of Fish and Wildlife Agencies (SEAFWA) since 2016, and is serving as the Communications Local Arrangements chair for the 2020 SDAFS meeting in Little Rock, AR. Chris served as an Arkansas representative to the SDAFS Reservoir Committee from 2009-2016. Chris has served as the AGFC's representative on the Association of Fish and Wildlife Agencies' (AFWA) Fisheries and Water Resources Policy Committee since 2016. He has been a member of the AFS Fisheries Administration Section since 2015. Chris has been the Arkansas representative to the SEAFWA Fisheries Resources Committee since 2015. Chris has been a Mississippi Interstate Cooperative Resources Association (MICRA) executive board member since 2009. Chris is a National Conservation Leadership Institute (NCLI) cohort 5 fellow. Chris has worked with his colleagues to publish 10 peer-reviewed journal articles, and received the John F. Dequine Award for Best Paper at the 2005 SDAFS meeting.
Vision
Chris has spent nearly his entire professional career in the SDAFS. He believes the SDAFS is an incredible network of passionate professionals with diverse experience which allows for significant influence on fisheries and aquatic resource issues. Although there has always been a high level of professionalism displayed by the Division membership, Chris has observed that it remains a comfortable professional home where all are welcome and encouraged to participate and contribute. He would like to see this continue into the future.
The vision that Chris has for the Division includes continuing strong engagement from the broad group of professionals within the Division to solve problems, share information and speak on behalf of fisheries and aquatic resources. He believes that diverse representation in SDAFS Chapters, on committees and in leadership roles will ensure that the Division is always best prepared to provide expert guidance with regard to fisheries and aquatic resource statements of position. Chris would also like to see the Division continue to maintain a strong emphasis on mentoring the next generation of professionals and leaders within the SDAFS.
Chris notes that this Division has been dedicated to service and professionalism since its formation in 1952. In the words of John F. Dequine, one of several SDAFS founding members, "…the Division's major strengths has been and remains the intensely motivated professionals who have comprised its membership." Chris is committed to continuing the strong traditions of the Division, and would consider it to be a great honor to serve as an SDAFS officer.