Jessica Baumann
2022 Candidate for Vice President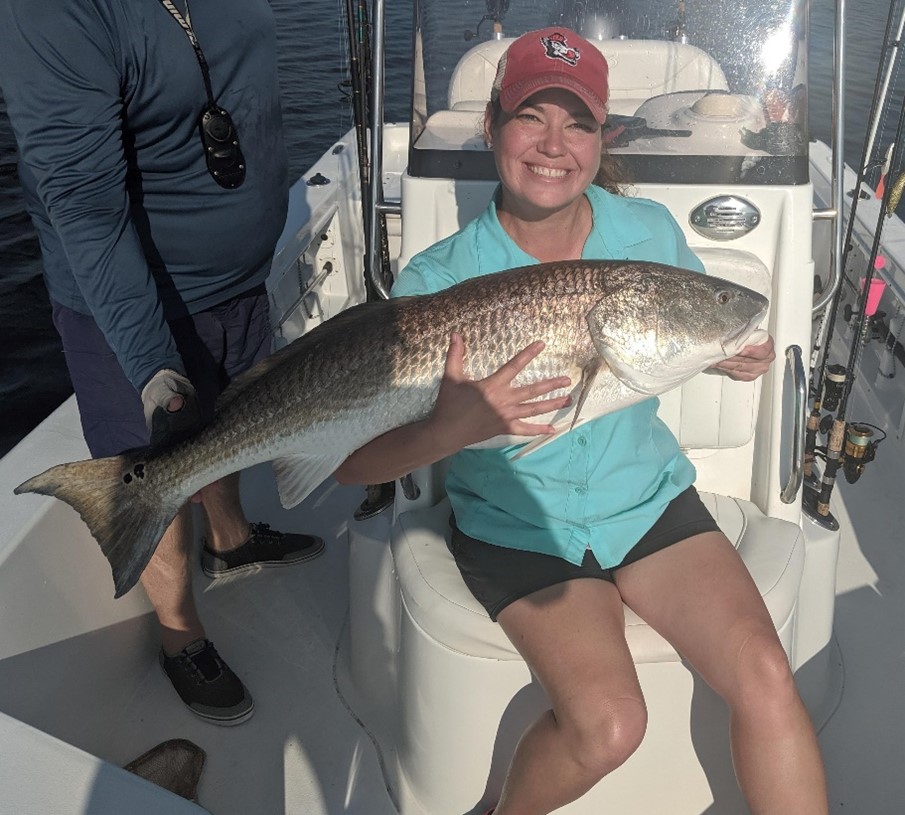 Background
I have been involved in managing multiple aspects of aquatic ecosystems over the past two decades. I received my Bachelor of Science in Biology from Augusta State University in 2002 and spent the next two summers working as a technician with Georgia DNR's Stream Fish Survey Team. During this time, I became interested in the impacts of non-native species which sent me on a path towards receiving a Master of Science in Fisheries and Wildlife from NCSU in 2007 working with Dr. Tom Kwak on Invasive Flathead Catfish. For the past four years, I have been an extension associate within the Aquatic Plant Management Program at North Carolina State University (NCSU). With this position, I oversee all research efforts and treatments programs that occur on Lake Gaston, NC/VA and ensure that results from the work our program does is properly disseminated to stakeholders. Prior to starting with NCSU, I worked for the North Carolina Wildlife Resources (NCWRC) for 11 years focusing on recreational fisheries management in Piedmont reservoirs.
During my professional career, I have published in both Transactions of the American Fisheries Society and North American Journal of Fisheries Management. I received the AFS Fisheries Administration Section's 2013 Sport Fish Restoration Outstanding Project in the category of Research and Surveys. I also received the 2012 North Carolina Chapter's W. Don Baker Memorial Award for Best Professional Paper in 2012. During my educational endeavors, I was the recipient of both the 2007 SDAFS Warmwater Stream Committee's Jimmie Pig Award and the AFS Education Sections' Skinner Memorial Award.
Professional Activities
I have been an active member of AFS since 2005 and my road to service within AFS began while in graduate school at NCSU where I served as the president of the student sub-unit. Most recently, I have had the honor of serving as the Division's Secretary-Treasurer for the past four years. Moving on from this position will be bittersweet because I've been able to work with some amazing people and have really enjoyed the high level of collaboration with so many members of the Southern Division.  I'm also part of the founding team for both the Division's Women's Leadership Group and the Diversity and Inclusion Committee. Prior to serving as the Division's Secretary-Treasurer, I served as the Division's Podcasting Coordinator from 2013 to 2020 where I oversaw producing the annual meeting's podcasts. I also served as the A/V chair for the 2010 annual SDAFS meeting in Asheville, NC and co-chaired NCAFS's Education and Outreach Committee from 2012-2014.
Vision
Being on the SDAFS EXCOM for the past four years has given me a deep understanding and appreciation for the Division as a whole. If I'm honored with receiving this important post, my main visions for the Division would be to focus on supporting the next generation of fisheries professionals. The EXCOM members that I have been fortunate enough to work alongside of have made it a priority that all our members feel supported and welcomed. This is a value that is extremely important to me and one that I would continue to strive for by focusing on two main goals. (1) Increase communication and accessibility to EXCOM for our student members. (2) Encourage and support diversity and inclusion within the division. A common frustration expressed by our Student Representatives to EXCOM over the last few years has been the lack of communication with our student sub-units, a breakdown that can be seen with the low student member turnout during officer elections. Although student representatives have done an excellent job trying to address and bridge this gap, it is a difficult task to accomplish in a single year term. Therefore, I would focus on ways to emphasize to our student members that the Division and EXCOM can provide much more opportunities than just a single annual meeting and that they are a very important part of the process! I feel that diversity and inclusion within the Division is critical in maintaining our relevance within the science community and the public sector, but this does not mean exclusion of any part of the membership. I feel these terms get pitted against each other and I wouldn't be the professional (or human) I am today without the mentorship of Dr. Tom Kwak and Dr. Bruce Saul (neither of which fall into the diverse category)! However, there are definite struggles faced by groups within our division and I have and will always continue to do my part to help identify and address ways to make all members fill included and valued. One of my visions for supporting diversity and inclusion within the Division is to start from the base and focus on recruiting those from underrepresented groups into our profession. With my work on the Diversity and Inclusion Committee, efforts are currently focused on developing a student travel grant that will facilitate attendance to our annual meeting and allow networking with both academia and professionals for those students that historically may not have been introduced to careers within the natural resources field. I'm very proud of the southern hospitality that is always shown by our Division and believe we can be to the ones that lead the charge to increase diversity and respect within our professional field!
I truly value the collaboration and comradery that I've experienced within the Southern Division!  It was a highlight of my professional career to serve as the Division's Secretary-Treasurer and it would be an absolute honor to continue my work on EXCOM as your Vice President!
---
Carolyn Belcher
2022 Candidate for Vice President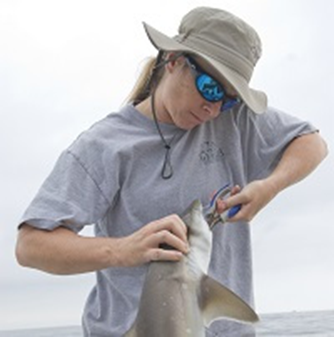 I am honored to be considered as a potential nominee for Vice-President of the Southern Division of the American Fisheries Society (AFS). I have been involved in fisheries management for 26 years as a Georgia state employee. I was first introduced to fisheries management while working on my master's degree in Statistical Science at the University of Rhode Island in 1993. I was fortunate to have a research assistantship with the National Marine Fisheries Service's Apex Predator Program where I worked with fishery-independent survey data for Atlantic sharks. Although I was working specifically on the mathematics behind the indices, I developed a strong interest in the biology and ecology of sharks.
After completing my master's degree, I moved to coastal Georgia in 1994 when my husband, a United States Navy submariner, was assigned to Naval Submarine Base Kings Bay.  I was hired by Georgia Department of Natural Resources Coastal Resources Division (GADNR CRD) in 1996 to perform data analysis and my career quickly morphed to include field activities on board large and small research vessels. In 2000, I accepted a position with the University of Georgia Marine Extension Service which gave me the opportunity to go back to school to pursue my PhD in Natural Resources.  My dissertation focused on shark nurseries in Georgia estuaries and this time I was actively involved in the field work and data collection.
I returned to GADNR CRD in 2006, where I continued to survey coastal sharks and provide analytical support on a variety of stock assessments and committees. I supervised the largest work unit in the Marine Fisheries Section, the Research and Surveys Unit, from 2011 – 2018.  The focus of that group is fishery-independent data collection for Georgia commercial and recreational species and to represent Georgia's fisheries interests at the Atlantic States Marine Fisheries Commission and the South Atlantic Fishery Management Council. I was promoted to Chief of Marine Fisheries in 2018 and now manage four work units responsible for boating access and habitat, research and surveys, fishery statistics, and vessel support.
I am extremely proud of the work I have done for Georgia, but I am most proud of my experiences with the South Atlantic Fishery Management Council. I was an active member of the Scientific and Statistical Committee (SSC) for 19 years and served as Chair for 6 years.  The Magnuson Stevens Fisheries Conservation and Management Act was reauthorized in 2006. I was Chair during the first years of the reauthorization and thoroughly enjoyed working with the other regional SSC leads as we navigated out newly appointed responsibilities.  I currently serve as a member of the Council where I am responsible for developing fisheries management policy.
I have been a member of AFS since 2000 and have been actively involved with the Georgia Chapter since 2007.  Over the course of my career, I've attended and presented at several state, and Southern Division meetings. I participated in the Hutton Program as a mentor in 2005 and 2006 and served as a member of GAAFS' Executive Committee from 2017 – 2020 and was Chapter president in 2019. I currently serve as GAAFS' program chair, and I am a member of the fundraising committee. The Georgia Chapter has grown in capacity over the last decade, and I am proud to have been part of its success. I thoroughly enjoy the opportunities AFS meetings provide for developing and maintaining collegial relationships as well as fostering opportunities to interact with students and upcoming professionals.
If elected to this role, I would continue efforts to promote participation in all avenues of AFS but especially at the chapter and division levels.  Recruiting and retaining students and young professionals is key to the overall success of AFS. I will collaborate with other Division leaders on ways to improve recruitment and retention of our members, discuss with other SDAFS leaders as to how the Division can support student colloquiums at the state level, and explore ways to improve how the Division communicates with its members.
Furthermore, if elected to this role I will continue to support and develop efforts to increase diversity, equity, and inclusion within our profession and AFS.  I will work with other Chapters within the Division to discuss and share what they are currently doing to increase diversity, equity, and inclusion as well as seek ways to recognize the fisheries science and research being done by our underrepresented groups.
Thank you for your consideration and I hope that I can serve the Southern Division and its members in this capacity!